I have too many hobbies and not enough time to spend on each. Aside from r/c cars, I like to fly r/c planes and helicopters. I have a small collection of vintage Kyosho planes (mainly NIB, but one is destined to become a flyer for this summer). I also have a decent collection of vintage Kyosho helicopters. I am a big fan of the old Concept series and as of today, I have 17 of them. You can see most of them on my website at www.concept30.co.uk I have some new pics to put on there, but haven't managed yet. Recent additions to the list and therefore not on the site yet include a Concept 30DX (NIB), Concept 46VR (NIB) and an ultra rare Concept 10 (new built). Below are a few pics I took yesterday for the insurance company: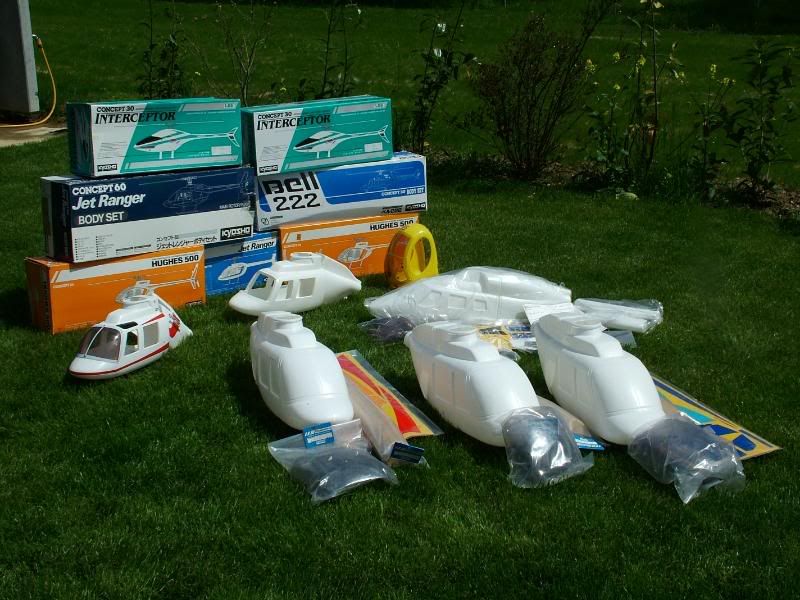 Tons more here :
http://s53.photobuck...nt/Helicopters/
Aside from the r/c stuff, I like an earlier poster have a small collection of video games consoles. Off the top of my head, I can remember Sega Megadrive (actually my brother's), Sega Game Gear, Sega Saturn, Sega Dreamcast, Nintendo NES, Nintendo SNES, Nintendo 64, Panasonic 3D0, Atari Lynx, Sony Playstation (x2). Of the more modern stuff, I have a Sony Playstation 2, Sony Playstation 3 and Nintendo Wii. The missus had a Nintendo DS. I would love a Panasonic Gamecube and an Atari Jaguar.
Away from the electrical stuff, I have an old car that I cherish. Not sure how many of you will know what one is, but I have a genuine and very original Ford Sierra RS500 Cosworth. There's a few pics and stuff on my website at www.rs-500.com I am currently in the process of importing this into Switzerland where it will be the first and only one in the country.
Other than that, I have a pilot's licence and until August last year was a part owner of a plane based at Blackpool airport (Cessna 182 for those that care). I also am involved in the syndicate that owns the plane that you see here : www.hawkerhunter.co.uk - Now that's a proper toy...!
I love mountain biking and did the C2C last year before I left the UK. Plan to do plenty more this season. Just need to get the bike serviced.
Err, that's it I think.