I couldnt resist the crawling temptation any longer and having read the great advice on Static Age's budget rock crawler thread I caved in and bought myself a Maverick Scout. What a well made bit of kit for the price. I was expecting a lot less metal content from a £125 RTR deal. I've mostly been climbing around the garden but I finally managed to take it out today on some proper rocks and grassy banks.
So far all I've done is drop the body down about 1 inch, added 200gms of lead to the front wheels and 100gms to the rears & vented all wheels to 3mm. It performed great today climbing a huge pile of rocks down at Priory Farm which is a local family friendly spot just outside Redhill. I even had my 6 year old nephew teaching me the give it some welly technique of climbing boulders wear I'd failed miserably.
King of the castle.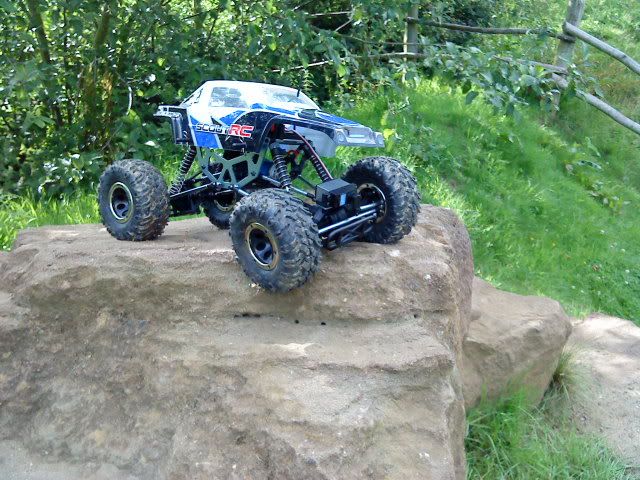 Crawler nirvana
I hate that body though. I have an 80's era Jeep body on the way from the states along with a set of bent lower links to improve the ground clearance. I'm also thinking to slightly re-gig the chassis with the addition of some alum "L" beams and remount the shocks onto them for more of a scale look. It'll also hopefully counter some of the torque twist it has on the standard set up.
Im toying with the idea of changing the motor as I believe the standard kit one is 14T, is that right? Sounds more of a sporty motor than crawler to me but I assume its the reduction in the gearing that enables it to perform so well. Still think it might be worth swapping out, am I right in thinking a standard Tamiya RS540 would actually produce more torque being 27T? I have a few of those sitting around already.
All in all Im very happy and it certainly makes for a whole different type of R/Cing fun. I now find myself eyeing up rock faces, earth banks and tree roots while Im out and about and thinking hmmm, I recon if I approach from here I could make it
http://www.tamiyaclu...O_DIR#/wink.png
I'll get some more pics up once the new bits arrive.
Cheers
Nic