hi , while i was looking for parts for my hunter , i found a hunter that has a black chassis . i found out this is a galaxy cvhassis , so i thought i would finish the cassis of as agalaxy again . wel those parts are just about imposible to get so , i was trawling through fleabay and found a galaxy just put in under '' offers'' . it looked ok soi took a punt and grabbed it .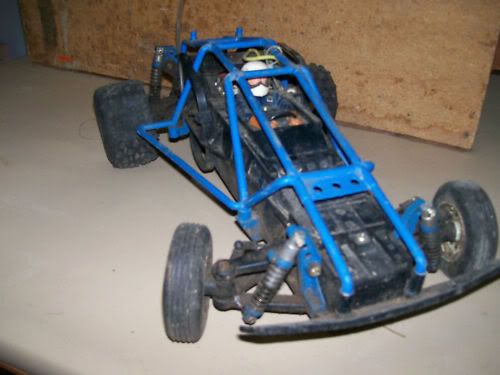 well . it turned up in the post with every thing except the boxes it came in i got all the paper work for the car , the old '' quick charge leads '' , a clockwork charger , beat radio and a catologe from marui with the toy shops prices written in side it .
it was all there , except the rear bumper , blast ! , which had a home made brass tubing job in its place . and grubby ! whoo was it a pig pen ! i emailed the old girl i bought it off and asked if she knew anything of its history. she said it was here sons and they got it new in 1985 from abc hobbies in dandenong , victoria . and raced on a dirt track .. i asked her if they watered in before races and she said no because it would run off due to the old engine oil they sprayed on the track to keep the dust down and so the cars could get tration her son told her !
well , sonny never cleaned it up last time he ran it in late ' 87 before he went to uni and basicly never came back home after finishing . so the oily muck has sat on it for 23 years and didnt it take some shifting , its been a complete tear down to a bunch of bits and pieces in a big dish ..but i havn't found any thing to nasty yet , except for the tyres which where affected by the oil but i have a set spare from the hunter . .