So here's yet another Percymon project..
A vintage Kyosho Gallop Mk2, courtesy of eBay. Whilst not exactly the highlight of Kyoshos range it was very much a technical showpiece back in its day with chain driven 4WD and 4 wheel steer. They were difficult to steer compared to normal buggies of their day, particularly on long sweeping bends where it was difficult to hold a steady line due to the extra steer.
I bought this purely for the interest of a chain driven buggy with 4 wheel steer – it would have been easy to buy yet another plastic Tamiya as a project, but since I'd enjoyed the mix of metal and plastic on the SRB rebuilds, another project with a similar engineered feel won the day.
The car came with two spares sets of Kyosho wheels/tyres (not Gallop), a vintage Futaba transmitter, a basic Schumacher 12V charger (pretty redundant these days as I think its NiCd only ?), a Parma lexan Beetle shell which looks like its been shot jusging by the number of (bullet) holes in it, and a Beatties bag. There's a promise of the correct body being sent on later, when its found by the seller, but I'm not holding my breath.
So here's how it arrived.. not too promising ?
On closer inspection..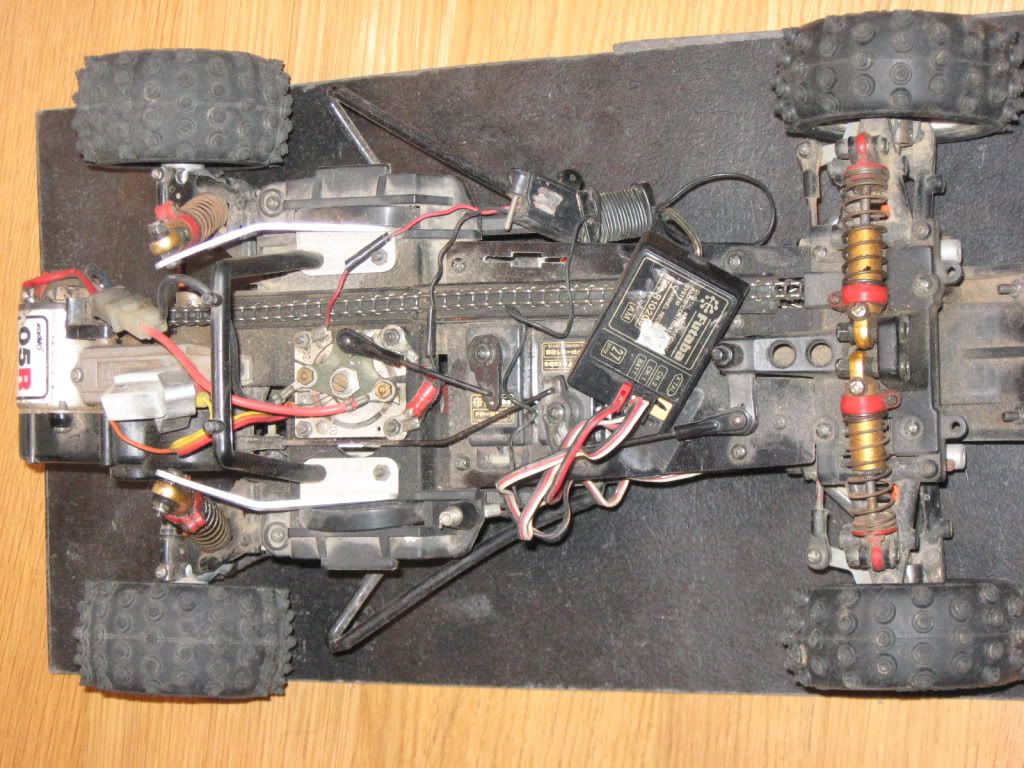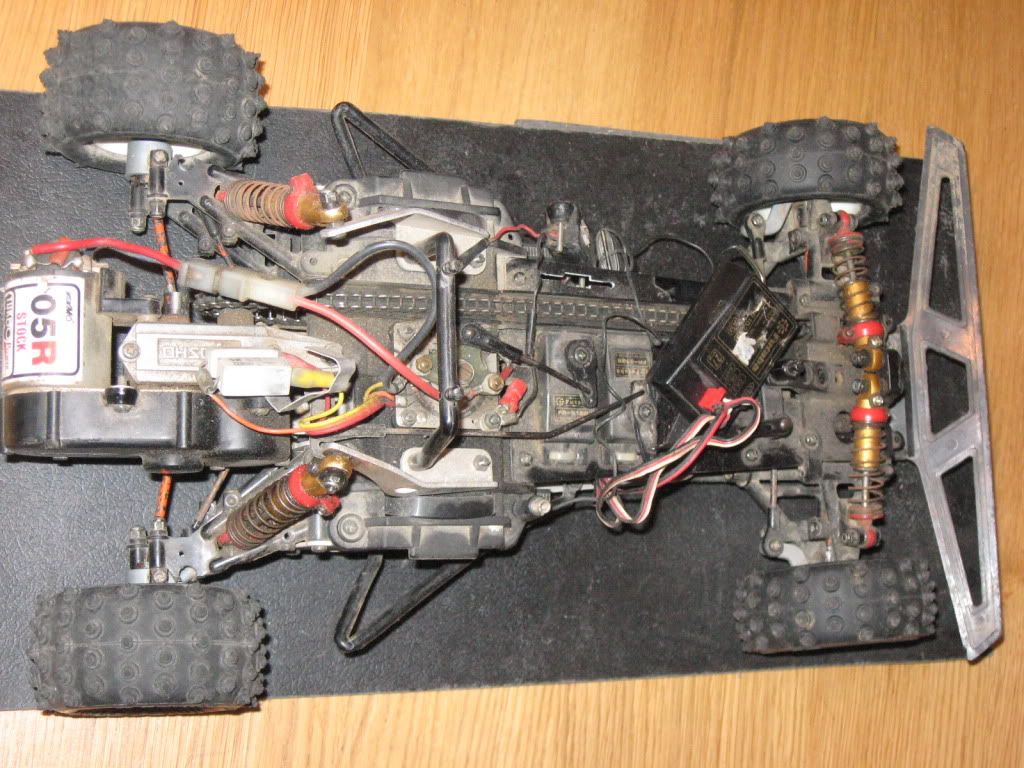 Original Kyosho MSC, resistor pack and twin servos all in place. All linkages for the 4 wheel steer present , albeit one of the rear ones was disconnected..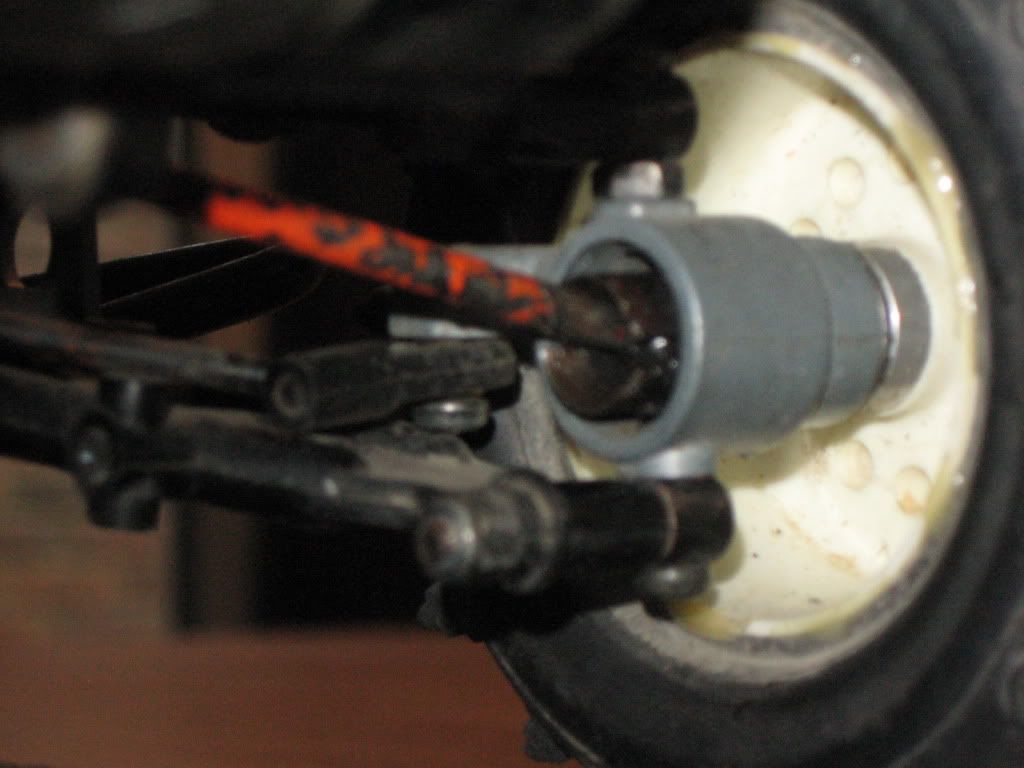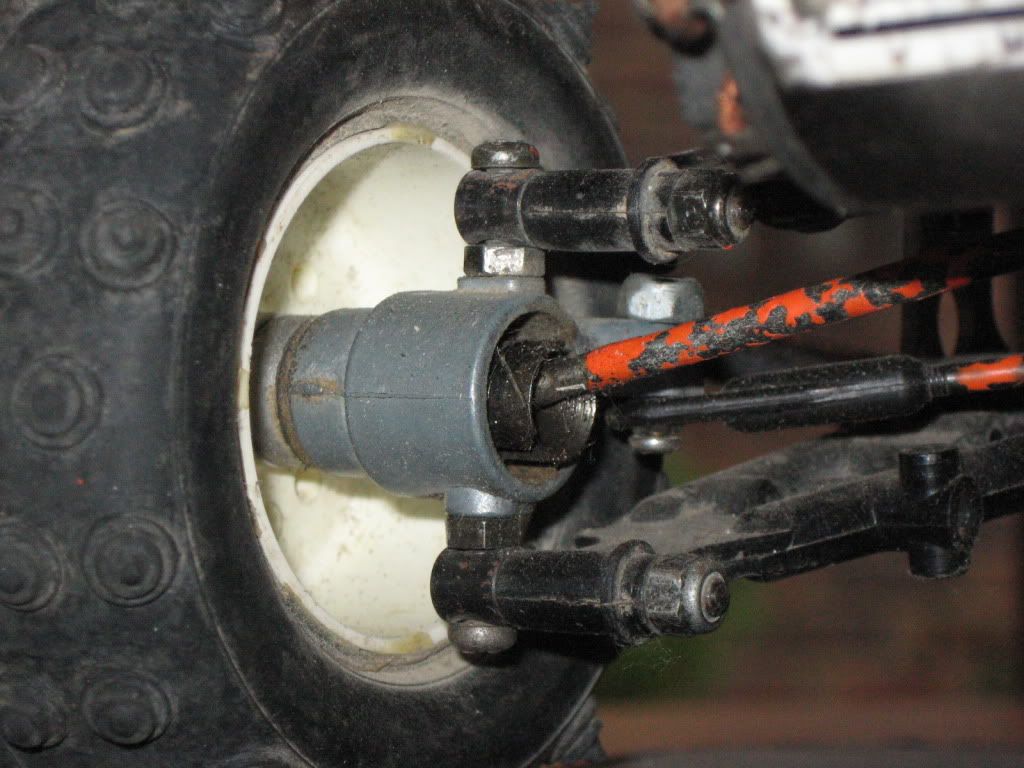 All driveshafts and drive cups present. All shocks present and correct, just covered in grease and grime...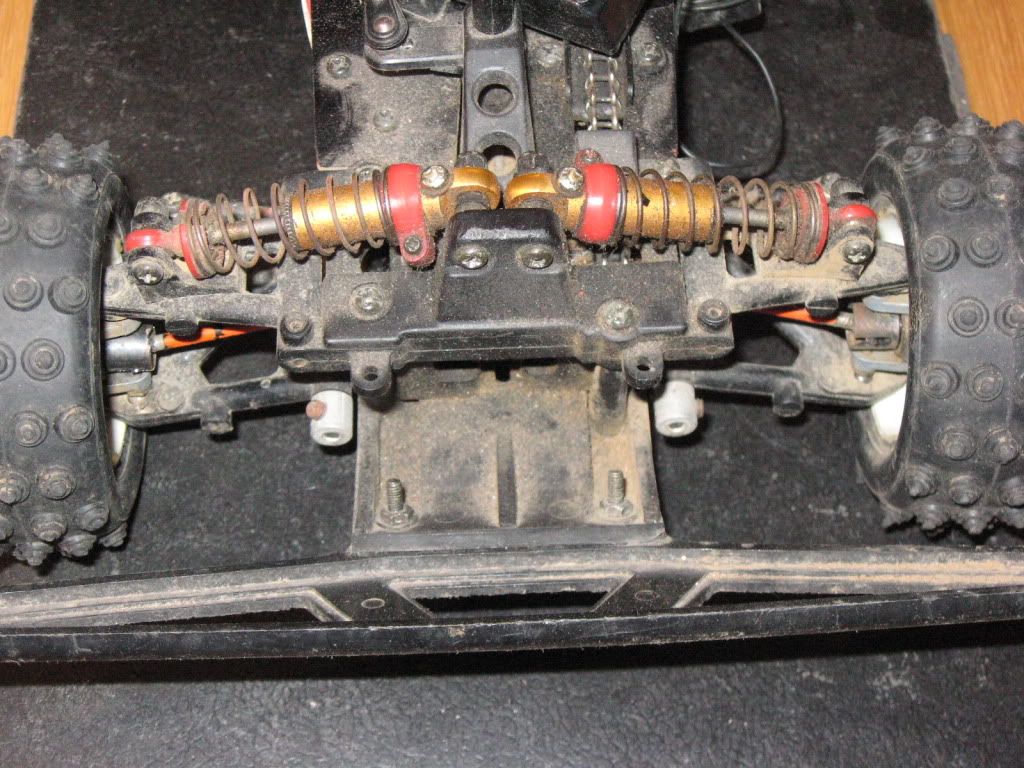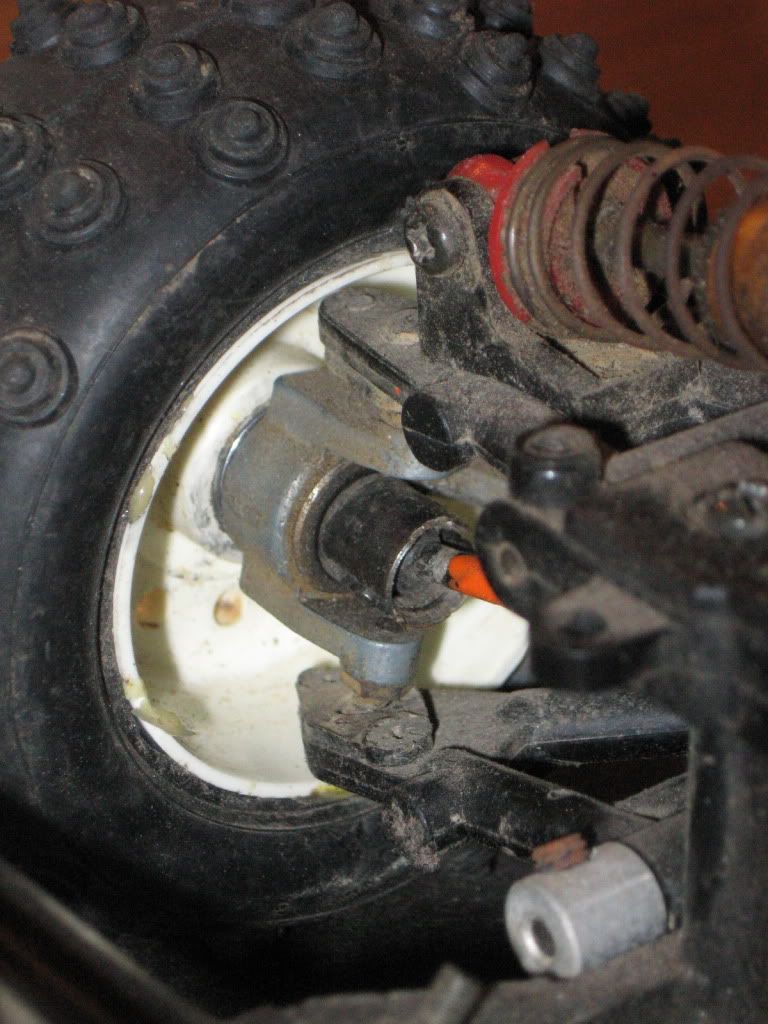 Original wheels n tyres looked to be in good shape...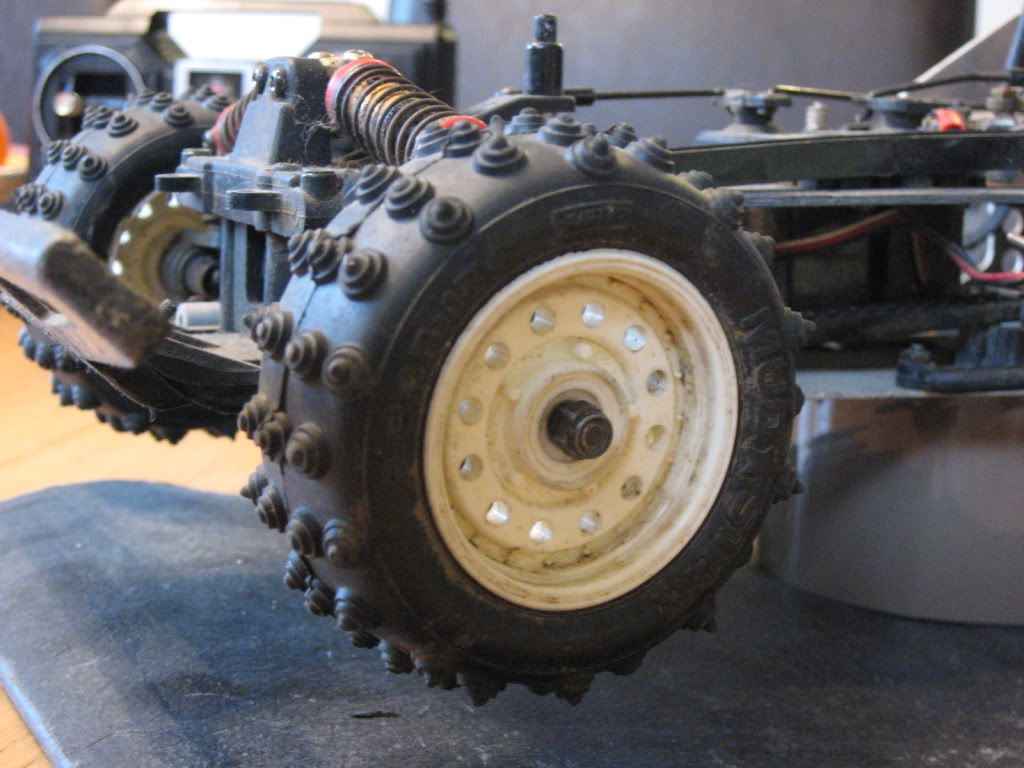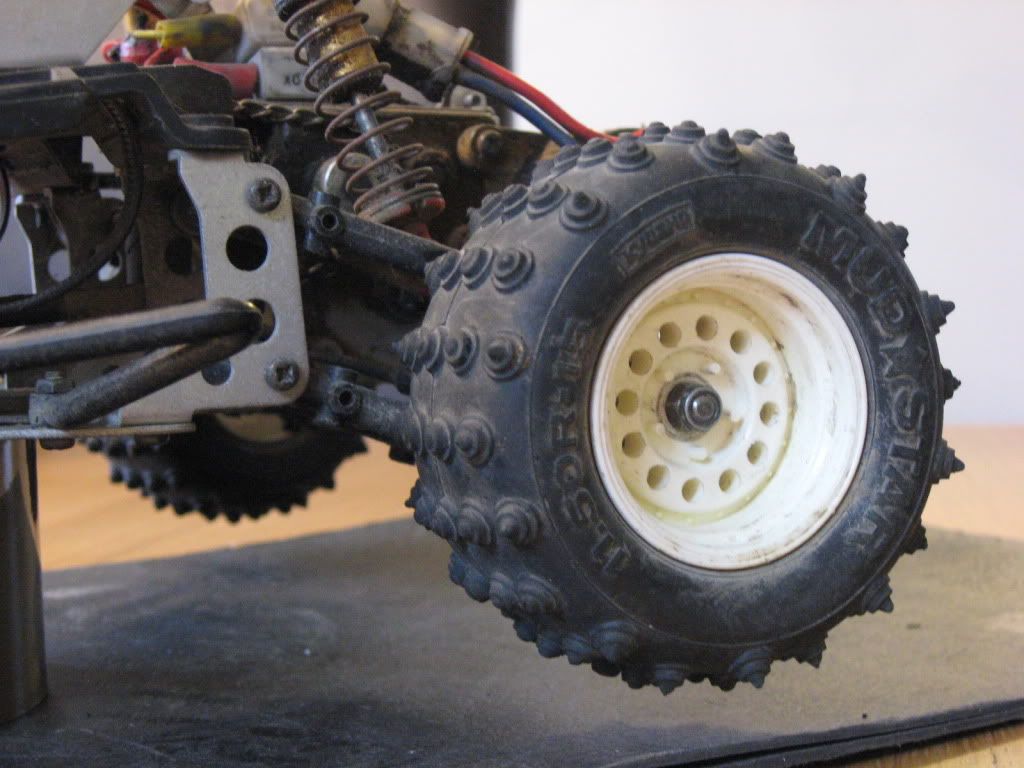 Bottom skid place had some scratches from use as did the front bumper.
The
bad
bits..
1. The rear upper shock arms have been bent for some reason, maybe to fit a different shell ?
2. Rear roll cage/bumper missing
Other than that it generally looked to be a reasonable used example, with lots of dust n dirt, covered in as much brick dust from years of garage storage as anything accumulated from use !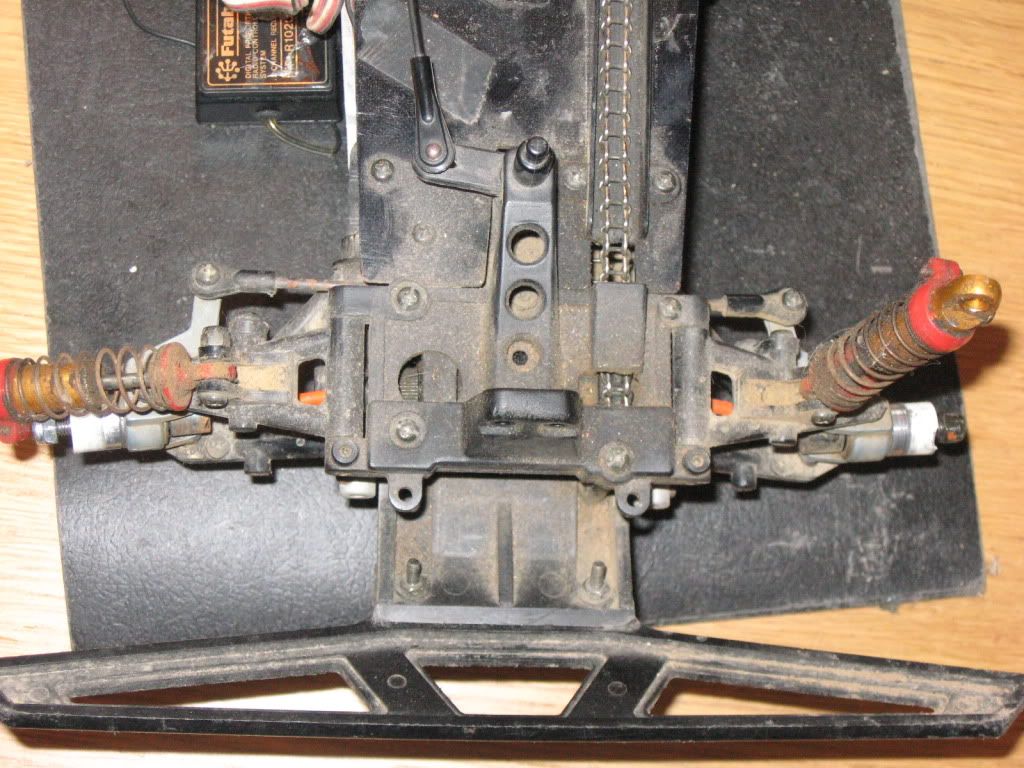 Fully stripped down and all parts cleaned – it took a total of 9 hours non-stop just to do this part, such is the complexity of the build
The ultrasonic cleaner earned its money !
The
good
news..
1. NO broken parts – woohoo, that makes a change for one of my projects
2. All the plastic gearbox internals in as new condition.
3. Wheels n tyres all good, no perishing, no hardening and minimal wheel rim marking
The additional bad news..
1. Brass motor pinion very worn
2. 17 tooth aluminium idler/pinion gear in the gearbox worn
.. both of these easily replaced as they look to be 32dp pitch gears