Hi all
a lot of cleaning happening in my shed atm to clear out some space. Will update regularly.
Sorry for the crappy pics - photobucket app is encouraging ipad use with the direct upload app, but the pseudo-camera on this thing certainly isn't up to par, even with proper lighting :roll:
Conditions:
- Paypal only - the fee is on me
- Prices exclude shipping from Europe
- Will ship at cost, your choice insured/notinsured/tracked/...
- No sub-25EUR order please for the sake of simplicity
thanks for your understanding
Rare Tamiya TR15T with KO external starter - 120EUR
Tamiya TR15T, appears complete but rollcage ($15 on ebay) and body, dusty from storage but in very fine mechanical shape, glow plug missing from pic but I'll provide a new one. Very rare car in this condition, Tamiya's first nitro car, a bit of a Nitro DynaBlaster with which it shares the MDC transmission and suspension, a real groundbreaking design, with an even rarer KO handheld starter (plug a 6cell pack in the starter, plug starter in external plug linked to engin/glowplug, push the button, it should start
). Very fine project but in the meantime I've bought an almost new one and I can't justify having two of these rare beauties!
Two 12th scale vintage bodies - PAINTED AND RUN BY OSCAR JANSEN BITD!!!
- 20EUR for both
Schumacher Ford Escort Cosworth
- onroad/nitro version of the offroad cougar. New never run, missing main needle in the carb. Wheels and tires are there, just as new as the rest, just not pic'ed - 90EUR - Not pending anymore... back on sale
Graupner Hydro Sprint NiB
- 60EUR
Kyosho Wheelie Series Boogie Box - NIB
- 80EUR
This is the PERFECT RC for your kid or even yourself when you're tired of being anal about gamber gain and diff oil on your racecar! More fun that a wild willy, more durable than a lunchbox, faster than a midnight pumpkin, what are you waiting for???
Associated RC10LS
, graphite version, clean under the dust, complete, white plastics (not frequent), standard servo, 3 extra wheels (I know, I know) – 65 EUR
Franklin Mint Corvette 1960 NiB, open for inspection only
- 40EUR
Tamiya Bigwig parts:
All NiB
- Bag A – one set left of yellow parts, complete. 20EUR Reminder: TBG and [removed] both do lexan and vinyle repops so you can redo a complete BW
(battery cover sold)
Hotshot parts, not rere
– some of them fitting boomy and the likes - All NiB
- original shock body - 15EUR
- diff gears - 10EUR
- CRP Nerf Bars - 15EUR
Vanessa Lunchbox miscellaneous
- Wheel set complete + one extra front one (not on pic) – 12EUR
- Chrome parts tree– one with all 4 body mounts (yep, those ones…) – 15EUR - one with only 1 of the mounts – 10 EUR
- Bunch o'parts, springs, shock bodies ,sunroof new parts tree, bottom skidpad, etc… 10 EUR
- the whole package for 20EUR
Racers Edge anti-static battery box + battery jig with velcro
superb shape - 12EUR for both
And now, the crown jewels :
Hirobo Alien Mid4,
new built, futaba MC112 new, period Futaba Magnum junior new, boxes, instructions, some decals not even glued ([removed] does repros btw), body painted pink (argh) but peeling easily, one body post cut a tad too short. In other words, new, RTR Alien Mid 4 WOW !!! 290EUR
Yokomo YR4GP
New built, never ran, new period OS, New period Magnum junior (one generation younger than the alien's
), box, instructions, OS stickies, new honda prelude new body (not so good a cut tbh but looks fantastic unless you put your eyes right next to the cracks) - 200EUR + port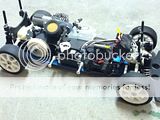 No trades atm pls, trying to make some space in the garage as ordered by my significant other (and rightfully so)
Cheers
Paul